How Do You Sue Private Bus Companies?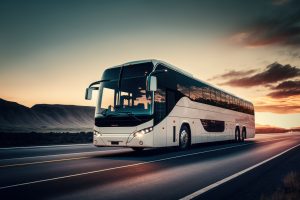 The process of suing a bus company may vary depending on the circumstances, your injuries, and the type of bus that hit you. In the case of a private bus accident there are potentially numerous at-fault parties who can be held accountable for damages. Whether you are on a charter bus that you have hired for a specific trip, or a fixed-route bus that you are taking to see the country, accidents happen.
It is important to make the distinction between private bus companies and public buses. Private bus companies are privately owned, operate for profit, and offer a range of transportation services, while public buses are government-owned, provide public transit services, and prioritize accessibility and affordability for the community they serve. While public buses have set routes, generally within a city or from suburbs into the city, private bus companies are flexible with their routes, often stretching far outside the Pittsburgh metropolitan area.
According to the Federal Motor Carrier Safety Administration (FMCSA), 2019 saw 14,000 bus accidents, leading to 25,000 injuries and 261 fatalities. When accidents happen involving nationwide bus companies like Megabus, Greyhound, or lesser known charter bus providers such as US Coachways, National Charter Bus, and Metropolitan Shuttle, you may have numerous legal options. Common grounds for legal action against private bus companies include seeking compensation for personal injuries resulting from accidents, wrongful death claims, and property damage claims.
Who can I sue after my Pittsburgh bus accident?
Bus accidents may have multiple liable parties, including:
The bus driver: If their actions or negligence breach their duty of care to other road users, the driver of the private bus can be held personally liable. This could involve behaviors like distracted driving, driving under the influence, or speeding. Our Pittsburgh personal Injury lawyers will review the bus driver's driving history, looking for prior accidents or significant traffic violations.
The bus company: The bus company may also be held vicariously liable If the bus driver was involved in the accident while carrying out their official duties. Vicarious liability is a legal principle that holds companies accountable for the actions of their employees when those actions occur within the scope of their employment.

Additionally, if the bus company failed to properly maintain the vehicle, ensure the driver's qualifications, or address safety concerns, they could be held directly liable for negligence.

The manufacturer of the bus or of defective parts: The accident could have been caused by a defective bus part, in which case you could have a claim against whoever made that part.
The driver of another vehicle: Our Pittsburgh car accident lawyers are also aware that it is possible that the bus was not the primary cause of the accident, but rather the driver of another car involved in the accident, who should be held primarily responsible for the wreck.
In some cases, all of these parties may share some liability. This can make it challenging to gauge each party's responsibility accurately. An experienced legal team like the one at Carmody and Ging can determine who should be held accountable in the aftermath of a bus crash.
What about school buses?
School bus accidents can be tricky. In some cases, the buses are owned and operated by a specific school district. In others, they are contracted out to private companies. If the district owns the buses, your claim will be against the district itself – and that can be a far different type of case, with different claims processes, statute of limitations, and potential compensation.
What damages can be covered by a lawsuit in a bus accident?
If you have sustained injuries in a Pittsburgh bus accident, you can potentially claim damages for the following:
Medical expenses: Costs for healthcare and treatment related to injuries.
Lost wages: Income lost due to inability to work after the accident.
Loss of future earning potential: Reduced ability to earn income in the future.
Physical and mental pain and suffering: Suffering and emotional distress experienced.
Property losses: Damage to personal belongings or property.
Applicable funeral and burial expenses: Costs associated with funerals and burials.
Seeking immediate medical attention, even for seemingly minor injuries, is crucial, as your medical records will serve as vital evidence to determine the extent of damages you can rightfully claim in the aftermath of the accident.
Is filing a lawsuit against a private bus company different from suing another passenger car driver?
Yes and no. The statute of limitations for both types of cases is the same, set at two years. However, these cases differ because large bus companies will generally have strong legal teams in place to mitigate the losses from accidents such as your own, pitting you against a skilled defense. For that reason you will need a dedicated and experienced team of Pittsburgh bus accident injury attorneys on your side.
The Pittsburgh personal injury lawyers of Carmody and Ging, Attorneys at Law, have a combined 60 years of experience and knowledge. Check our testimonials and settlements page to see how we have helped our Pittsburgh neighbors through similar situations like your own. Our team can work to build a strong case against the negligent driver or private bus company responsible for your accident and subsequent damages.
We will fight to hold all guilty parties accountable for their part in this accident. Let us handle the legal side while you and your loved ones focus on physical and emotional recovery. Call or contact us today for a free consultation. Proudly serving all of Western PA.