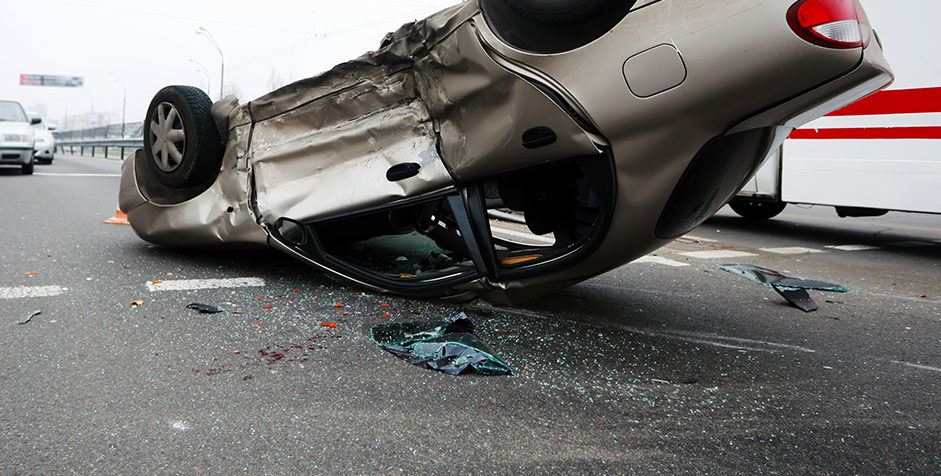 Pittsburgh Rollover Accident Lawyers
Tough representation when drivers and passengers are injured or die in a rollover crash in Western PA

Any car can roll over if the driver takes a turn too fast, strikes an embankment, or is flipped by another car in an accident. Many times, when a car rolls over, the car lands on its side first and then on the roof. Drivers and occupants are likely to be thrown from their vehicles. Even with seat belts and airbags, the occupants are likely to suffer catastrophic injuries or fatalities.
At Carmody and Ging, Attorneys at Law, our Pittsburgh rollover accident lawyers have been fighting for car accident victims for a combined 60 years. We work with the police, investigators, and traffic reconstruction experts when necessary to show how the car rolled over, why the rollover could have been prevented, and who is responsible. We work with your doctors to understand just how devastating your injuries are. Our lawyers also work with professionals who can help determine the undeterminable – placing a financial value on the life of anyone who dies in a rollover accident.
How dangerous are car rollover accidents?
A rollover accident occurs when a car rotates on a side or on its roof. The Insurance Institute for Highway Safety (IIHS) states that many rollover accidents involve a car leaving the highway.
In 2021, 7,640 passenger vehicle occupants died in rollover accidents. About 75 percent of rollover accidents involved a pre-rollover impact, while about 25 percent involved a vehicle rolling over without any impact (with another vehicle or a roadside object) beforehand.
1,532 fatalities involved a vehicle that was struck on its front.
487 fatalities involved a vehicle that was struck on its side.
102 fatalities involved a vehicle that was struck on its rear.
546 fatalities involved no impact.
According to IIHS, "in 2021, rollover crashes accounted for 21 percent of occupant deaths in cars, 40 percent of occupant deaths in pickups, and 38 percent of occupant deaths in SUVs." They represented 29 percent of all passenger deaths in 2021. Many more rollover fatalities involved single-vehicle accidents than multi-vehicle accidents.
What are the common causes of rollover accidents in Pittsburgh?
Single-vehicle rollover accidents normally involve a car striking a curb, a ditch, or a roadside object. Driving above the speed limit in a curve is just asking for your car to roll over. Vehicles may rotate several times before landing if they are struck too hard and at a right angle.
At Carmody and Ging, our Pittsburgh car accident lawyers work with investigators, the police, and through the discovery (question and answer) process to show why the rollover accident occurred, and how it could have been prevented. Many rollover accidents in Western Pennsylvania happen because:
A driver can't control his/her car. Some of the reasons drivers lose control include:

Driving while distracted. Any activity that takes a driver's eyes off the road, hands off the wheel, or mind off how to handle emergencies is considered distracted driving. Common examples include texting while driving, using the Internet, using a cell phone, eating, or drinking.
Driving while impaired by alcohol or drugs. Drivers should never get into a vehicle if they've had too much to drink, or if they use drugs that can affect their driving.
Driving too fast for weather conditions. Rainy and snowy roads are treacherous. Drivers need to use a proper amount of caution in bad weather to prevent a rollover.
Mechanical failure. If certain auto parts are defective, such as the steering or brakes, a car may roll over due to the defect. Tire blowouts can also cause a driver to lose control and rollover.

Multi-vehicle accidents. Any time a car strikes another vehicle, it's possible for one or both vehicles to roll over – depending on the size and shape of the vehicles, the level and condition of the road, and other factors.
"Tripping." Many rollover accidents are caused when a single vehicle drives over or into a pothole, curb, ditch, or anything on the road that causes the car to lose its grip on the road.
Speeding. The faster a car travels, the more likely the car is to lean too much in a curve or crash into another vehicle.
Construction work. Roads near or at work zone sites are often uneven and unfinished creating instabilities that can launch a car into the air.
Single-Lane Roads
Single-lane roads can lead to rollovers because drivers who leave their lane are likely to strike an oncoming vehicle head-on or leave the roadway altogether.
What vehicles/models have the highest risk of rollover?
Cars that are tall and narrow are more likely to roll over because they have a higher center of gravity – they're more top-heavy. These types of vehicles include SUVs, vans, and pickups.
According to Motor and Wheels, the following vehicles performed poorly on rollover tests by the National Highway Traffic Safety Administration:
Cadillac Escalade
Chevy Tahoe
Ford Explorer
Toyota 4Runner
Dodge Nitro
Jeep Renegade
The Detroit Free Press recently reported that "Ford Motor Co. is recalling its popular 2021 Bronco Sport for a second time, now for an incorrect lower control arm that could result in reduced vehicle stability and increase the risk of a rollover crash at maximum roof load."
Note: one of the nice features of electronic vehicles (EVs) is that EVs have a lower center of gravity because of their heavy batteries. This principle applies to both sedans and SUVs.
What steps should Pittsburgh drivers take to prevent rollover accidents?
Drivers in Pittsburgh should know what safety measures can help reduce the risk of a rollover and protect them in the event of a rollover accident. These safety precautions include:
Wearing a seatbelt. One of the biggest dangers of a Pittsburgh rollover accident is that a passenger will be ejected from the car onto the hard asphalt or into another vehicle. Seatbelts keep victims in their cars where airbags can cushion the blow.
Driving at or below the speed limit. Speeding increases the likelihood that a car will become airborne if the car strikes an object or another vehicle. Driving slowly helps avoid collisions by giving the driver more time to respond to emergencies.
Checking the tire pressure. Both under-inflated and over-inflated tires are dangerous. Under-inflated tires increase the risk a driver will lose control of his/her car. Over-inflated tires increase the risk of a rollover if your car strikes a pothole or a roadside object.
Driving carefully in a curve. Drivers should slow down before entering a curve. Speed and steep curves increase the risk of a rollover accident.
Avoiding drinking and driving or driving while distracted. Both alcohol and driver distraction increase the risk of an accident with another car or tripping over a roadside object.
Drivers in Pittsburgh should slow down in bad weather and stay far enough away from other vehicles so that they can stop if there is an emergency.
The Pennsylvania Department of Transportation can help reduce the risk of an accident by ensuring that roads are designed safely – such as roads that don't curve or twist and turn.
What injuries do victims of rollover accidents suffer?
Most rollover accidents cause catastrophic injuries because it takes a lot of force for a car to flip over on its side or become airborne. Our Pittsburgh personal injury lawyers represent drivers and passengers who suffer any type of severe injury including:
Fractures/broken bones
Internal bleeding and organ damage
Muscle, nerve, tissue, and ligament damage
Back, neck, and shoulder pain
At Carmody and Ging, we also file wrongful death actions on behalf of spouses, parents, and children against everyone responsible for the rollover crash that took the life of your loved one.
Who is responsible for a car rollover accident in Pittsburgh?
In most cases, passengers in a car that rolls over will file a complaint against the driver of the car they're in, or the driver of another car that caused your car to roll over. Drivers can file claims against other drivers who cause a rollover crash. In some cases, owners and employers may be liable.
If an auto part defect (such as defective brakes) caused the rollover, or if an auto part defect (such as defective airbags) failed to prevent more serious injuries, then Carmody and Ging will file a complaint against the manufacturer of the defective part. We review whether the auto part was subject to a recall. A recall notice helps to show the part was defective – though we also can show a part was defective through the analysis of auto design and product safety specialists.
Do you have a vehicle rollover accident lawyer near me?
Carmody and Ging lawyers meet with clients at our office located at 801 Vinial Street in Pittsburgh, on the 3rd floor of the Deutschtown Center building. The building is directly across the street from Penn Brewery. Parking should be available. We can also be reached by bus- get off at the Troy Hill Road stop. If you're too ill or immobile to travel to our office, we do meet clients in hospitals, homes, and through video conferences by appointment.
Our lawyers will guide you calmly and step-by-step through the claims process.
Talk with a seasoned Pittsburgh rollover accident lawyer now

Contact us as soon as possible after a rollover accident so we can examine the vehicle, review what happened, and discuss your medical condition. At Carmody and Ging, we understand how frightening rollover accidents are. We help families assert their rights while mourning the death of their loved ones. Our Pittsburgh car accident lawyers can back up our talk with a strong record of successful settlements and verdicts. We'll fight for all the compensation you deserve. To schedule a free consultation with an experienced Pittsburgh car accident attorney, please call us or complete our contact form. Our roots are in Pittsburgh. We have been proudly fighting for car accident victims in Western Pennsylvania since the early 1990s.