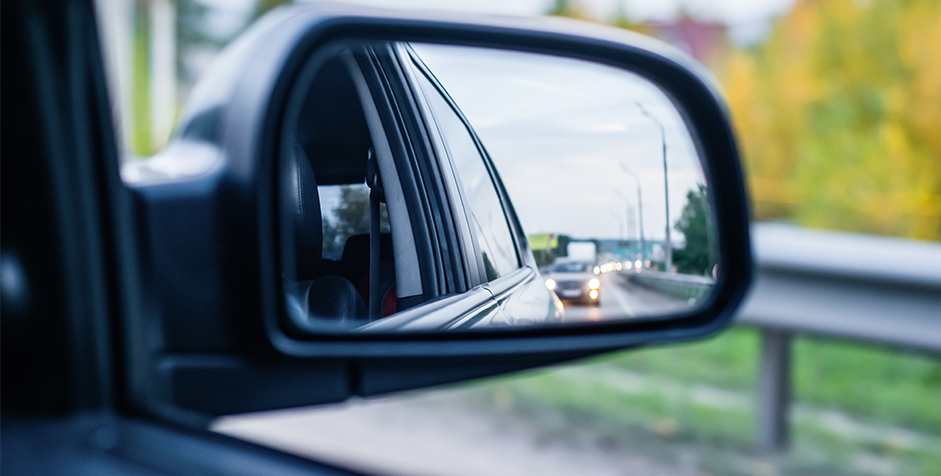 Pittsburgh Truck Blind Spot Accident Lawyers
Tough representation for Western Pennsylvania truck accident victims and families

Truck drivers of tractor-trailers, flatbeds, box trucks, and any type of truck that carries cargo will have difficulty seeing the traffic around them because of truck blind spots. Blind spots occur when a driver can't see to his/her rear or sides because the sight lines are blocked by the rest of the truck, including the trailer or the cargo on the truck. Even with mirrors and cameras, drivers need to use a lot of caution to ensure they see other vehicles on the Pittsburgh roads.
Blind spot truck accidents often cause catastrophic injuries or deaths because if the driver of a massive truck doesn't see your car, the driver will likely strike your car directly on the front, side, or rear at full force. At Carmody and Ging, Attorneys at Law, our Pittsburgh truck accident lawyers have a combined 60 years of experience fighting for personal injury victims. We're skilled at showing that a Pittsburgh truck blind spot accident is due to driver negligence, improper supervision by trucking companies, defective truck parts, and the failure to install the latest safety technology.
Which areas are considered blind spots for tractor-trailers?
The driver of any vehicle needs to know where other vehicles, pedestrians, and bicycle riders are at all times. Drivers of tractor-trailers and any truck with long, wide, or tall dimensions need to be especially careful because trucks are not designed with windows. The large dimensions of a truck make seeing traffic very difficult. Without proper planning, other drivers will be "invisible." By the time a driver turns his/her head or takes his/her eyes off the traffic in front of them, a terrible truck accident can occur.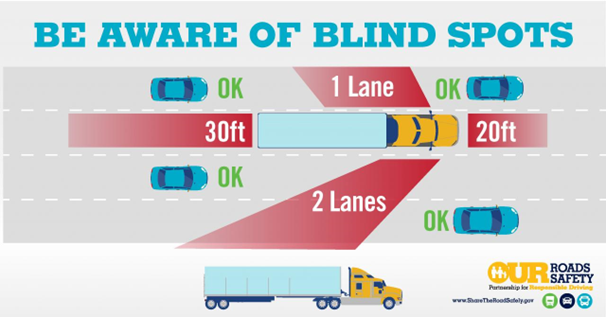 Blind spots can move as the truck moves. One of the biggest dangers is when trucks are turning at an intersection. Blind spots can prevent a driver from seeing behind his/her truck, to the right of the truck, or to the left of the truck. Even with mirrors and cameras, drivers may not see vehicles or people who are close.
Truck drivers and car drivers need to consider the following blind spot dangers:
Cars that are behind a truck. Generally, drivers of cars near a truck should be able to see the truck driver's side mirrors. If you can't see this mirror, the odds are the truck driver can't see you.
Cars to either side of a truck. It's likely that a truck driver can't see a driver to the right of the truck – the full length of the truck – and some additional distance in front of and in the rear of the truck. Cars should never assume that drivers can see better if the car is to the left of the truck. The problem of blind spots for cars to the sides of the truck becomes even more dangerous when a truck is turning because trucks make wide turns. Most trucks post warnings about the dangers of wide turns.
Cars and people in front of the truck. The height of the truck means that truck drivers often won't see vehicles, pedestrians, or bicycle riders right in front of the truck because the driver's eyes are focused farther down the road.
Why do blind spot truck accidents happen in Pittsburgh?
Truck drivers need to take a variety of precautions to prevent blind spot accidents. When drivers fail to exercise the following safety steps, they can be held liable for your injuries or the death of a loved one if they:
Fail to understand where their blind spots are
Fail to ensure that they can see the drivers around them when a driver turns or changes lanes
Fail to use a spotter when backing into traffic
Fail to check the mirrors, any new blind spot technology, and use turn signals when turning, shifting lanes, or merging
Fail to be aware of the blind spots of other drivers
Drive aggressively instead of exercising extreme caution when near other vehicles and at intersections
Some of the factors that increase the risk of Pittsburgh truck blind spot accidents that may affect a truck driver:
Inexperience. Drivers should be trained to understand where their blind spots are, and how the truck driver can drive safely when there is other traffic nearby – which is most of the time for truck drivers. Employers should train their drivers with software, videos, and hands-on experience.
Driver distraction. Drivers who text or talk on their cell phones while driving are not checking for blind spots.
Speeding and other traffic violations. The faster a truck is going, the less time the truck driver has to check his/her blind spots.
Driver fatigue. Many truck drivers are on the road the whole day. Tired drivers aren't fully focused on other drivers.
Heavy traffic. The heavier the traffic is on any of Pittsburgh's roads, the more likely other cars will be too close to the truck for the driver to be able to see.
Truck drivers should be especially cautious about their blind spots when it's raining, snowing, or visibility is reduced for any reason.
How can blind spot technology help avoid blind spot accidents in Pittsburgh?
New blind spot monitoring (BSM) technology is improving all the time. This new technology includes cameras and videos that help the driver know where any traffic problems are that are in the driver's blind spots. The newer technology should alert the driver so that the driver can stay focused on the road instead of watching the technology for too long.
Many trucks are equipped with blind spot monitoring technology. If the truck is not equipped with this technology, the technology can be purchased and installed separately.
Kelley Blue Book states that the less sophisticated technology uses radar and ultrasonic sensors embedded in the bumpers to detect a vehicle approaching the rear of your car in an adjoining lane. More sophisticated BSM technology uses side-mounted cameras.
BSM technology is helpful when trucks are merging or changing lanes. Still, drivers should know that BSM technology has limitations. For example, when reversing, a driver should use his/her eyes.
Who is responsible for a blind spot accident in Pittsburgh?
Carmody and Ging's Pittsburgh truck accident lawyers file claims against all responsible parties. The defendants may include:
The truck driver
An employer of a truck driver who is generally liable for the negligence of the truck driver
The trucking companies involved in the accident for failing to educate and monitor the driver's truck operations
The owner of the truck for failing to install affordable BSM technology
A manufacturer of defective BSM technology
Do you have a truck blind spot accident lawyer near me?
Carmody and Ging lawyers meet with clients at our office located at 801 Vinial Street in Pittsburgh, on the 3rd floor of the Deutschtown Center building. We're directly across the street from Penn Brewery. You can also reach us by bus – the Troy Hill Road bus stop is nearby. We do see clients at their homes or a hospital if they're immobile or ill. Video conferences are also an option.
Our lawyers will answer all your questions, explain your rights, and guide you through the claims process.
Contact our seasoned Pittsburgh truck accident lawyers now

Blind spot truck accidents cause traumatic brain injuries, spinal cord damage, traumatic amputations, broken bones, internal organ damage, and many other types of permanent injuries. Many blind spot accidents are fatal. At Carmody and Ging, our Pittsburgh accident lawyers work with your doctors to fully understand what injuries you have, how they're making every aspect of your life distressful, and the full range of medical care you'll need. We work with families to fully appreciate their trauma and pain.
Please call us or fill out our contact form to schedule a free consultation. We're Pittsburgh through and through. We proudly fight for truck accident victims in Western Pennsylvania.